Marmalade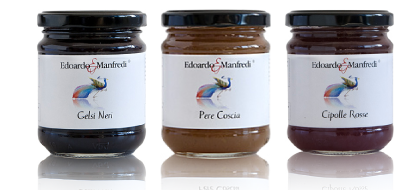 To describe the aromas, the harmony and the nature of our Sicily we have made ​​these jams from taste freshand intense. Worked according to the country tradition to make potting while the product is still hot, our products retain the authentic flavor and aroma of the fruit.
Jam black Mulberry.
The delicious flavor makes it ideal on the cream pies and unparalleled cooked, perfectly matched to the medium-aged cheeses
Sicilian extra Coscia Pears Jam .
Accompanies the mature cheese and savory smoked, enhancing the taste, without overwhelming the flavor.
Red Onion Jam .
Characterized by delicate fleshy and sweet flavor of onion is ideal with very ripe and tasty cheeses. Sublime the combination of meat,preferably cooked roast venison or game
8.47 oz.- size
Everything is strictly prepared in Sicily with Sicilian products (100%).