Mono Cult
L'Olio Extra Vergine di Oliva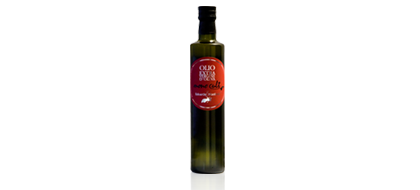 The label consists of a bright red background; it is like if the name Mono Cult was handwritten by the producer with a finishing touch of olives. It is also characterized by the elegant and silver hot engraving of the peacock; therefore, this picture represents the right alchemy of stability between cheerfulness and refinement.
Organoleptic Profile
Its smell is wonderfully strong and elegant. It obstinately boasts sensations recalling aromatic herbs combined with a wide range of floral hints.
Its taste is to say the least sumptuous thanks to its expressive power, elegance and balance. The impressive and well proportioned structure gives the palate harmonious, hot and bitter perceptions, spreading throughout a very pleasant and long persistence.
Variety : 100%Nocellara del Belice
Fruity : MEDIUM (ALMOND AND FLOWER SENSATIONS)
Hot: MEDIUM
Bitter: DELICATE (RIPE ALMOND AFTERTASTE)
Taste: SOMPTOUS, REMARKABLY EXPRESSIVE
Recommended on fish.
Milling
Oil cold extraction within12 hours after harvesting and exclusively by mechanical continuous methods
Harvest time
Fruits are picked up halfway through olives veraison, that is to say from 15th October until 15th November.
Preservation
Oil is preserved inside steel silos kept at even temperature.
Size
16.9 fl. oz.- bottle
Braille readable rear label
Oil analysis certification: readings prove to be consistent with what is provided for by CEE Regulation N.2568/91 on extra virgin olive oils.
100% ITALIAN PRODUCT
MADE IN SICILY