The Easter Dove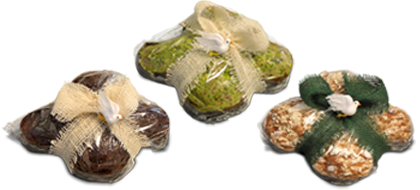 Our dove is prepared respecting the ancient natural process sourdough. This sweet closes the traditional Easter dinner with the eggs of chocolate, because since time remote, is that the dove egg is given a strong symbolic of peace, love and rebirth.
Traditional dove with almond
Tradition and simplicity characterize this protagonist in families during the days of Easter
Chocolate dove stuffed with cream chocolate
A sweet variant tradition makes a delicious all-time chocolate.
Pistachio dove stuffed with cream pistachio
The pistachio is one of the most renowned and popular products of ourland, its sweet taste and aroma naturally enriched the dove making typically Sicilian.