The Nichi
L'Olio Extra Vergine di Oliva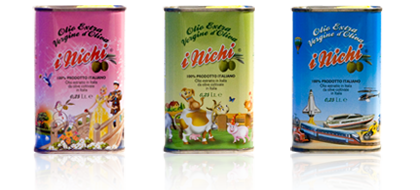 THE NICHI – The Young (Sicilian dialect) – They show three different drawings in order to meet children's fantasy and dreams; however, the inside oil contains the same extra virgin olive varieties. We aimed at making you dream with the castles of the pink Princesses, the means of transport towards a light blue sky or the animals in a green farm. The drawings wind themselves around the tin and children will enjoy finding out all the slightest details.
Organoleptic Profile
It smells of fine and pretty delicate ripe tomato, green apple, wild flowers and vegetables. It is distinguished by its gentleness and style. It is palatable and opens with incomparable balance and harmony and an extremely delicate character tickling the palate, but never being intrusive. Persistence is agreeable and lasting, with a citrus fruit reference.
Varieties : 90% Biancolilla, 10 % Nocellara
FRUITY: MEDIUM-LIGHT
HOT: LIGHT
BITTER: LIGHT
TASTE: GENTLE AND DELICATE
Recommended : for children thanks to its more delicate and not very burning taste.
Milling
Oil cold extraction within12 hours after harvesting and exclusively by mechanical continuous methods
Harvest time
Fruits are picked up at the end of olives veraison, that is to say from 15th until 30th November.
Size
8.45 fl. oz.-tin
Preservation
Oil is preserved inside steel silos kept at even temperature.
Oil analysis certification: readings prove to be consistent with what is provided for by CEE Regulation N.2568/91 on extra virgin olive oils.
100% ITALIAN PRODUCT
MADE IN SICILY