Babbaurraus Reserve
L'Olio Extra Vergine di Oliva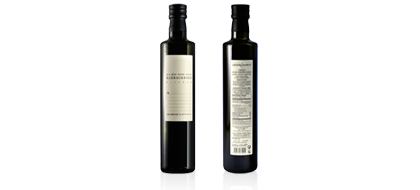 Conceived as a gift idea, such line is characterised by a label that may be completed and personalized as by the producer with the description of the present varieties concerning their picking year, as well as by any consumers ideas on dedication, date and memo. Braille writing is overlapped against the light in the rear label.
Organoleptic Profile
Its smell is medium fruity with pleasant herb, tomato and vegetable sensations recalling the central hills of the island. Delicate and harmonious nose.
It tastes smooth and confirms its fruity smell by enhancing the ripe almond through well balanced and agreeable sensations. Medium hot jet persistent hints are interesting.
Varieties
– 80%Tonda Iblea
-20% Nocellara del Belice
FRUITY: MEDIUM
HOT: MEDIUM
BITTER: LIGHT
TASTE: SMOOTH AND WELL BALANCED
Recommended with salads, grilled vegetables and cheese.
Milling
Oil cold extraction within 4 hours after harvesting and exclusively by mechanical continuous methods
Harvest time
Fruits are picked up at the beginning of olives veraison, that is to say in the first 15 days of October.
Preservation
Oil is preserved inside steel silos kept at even temperature.
Size
16.9 fl. oz.– bottle in numbered quantities –
Braille readable rear label
Oil analysis certification: readings prove to be consistent with what is provided for by CEE Regulation N.2568/91 on extra virgin olive oils.
100% ITALIAN PRODUCT
MADE IN SICILY
GOLDENER PREIS: awarded by DLG-Prämierte Spitzenqualität 2009 in Frankfurt.