Honey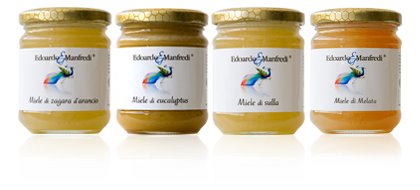 Honey is a food that requires less work overall, completely natural, it can help make our diet more balanced and healthy.
Our honeys are made ​​without any pasteurization treatment.
Orange Blossom Honey: Light-coloured, delicate-flavoured and intense orange blossom flowers scented. Thanks to its distinctive antispasmodic and sedative properties, it is advisable in case of nerves, anxiety and insomnia
Eucalyptus Honey: Light-brown colour, a little bitterish taste, strong aroma: it is used for laryngitis and as a cough sedative.
Sulla Honey: Light colour, fine crystallization, gentle taste. It is a wonderful table honey and is appreciated for its laxative, tonic, diuretic and depurative properties.
Honeydew Honey: Very dark colour sometimes verging on black; it is very rich in minerals, potassium, phosphorus and iron. It is advised by those who play a lot of sport and the "typical" person eating honeydew honey is anxious, stressed and suffering from memory lapses due to agitation, too much study, worries and age.
9.17 oz.-size
Everything is strictly prepared in Sicily with Sicilian products (100%).