EMG
L'Olio Extra Vergine di Oliva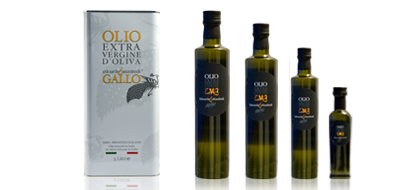 They pay a lot of attention to the label: it is rather elegant and refined against a black background with a copper hot engraving enhanced by the image of a peacock; it gives the table a special touch.
Organoleptic profile
Extremely elegant, the strong smell is characterized by spicy notes of tomatoes and aromatic herbs.
The taste is wrapping and fruity, recalling artichokes and green tomatoes flavors.
Variety of olives
– Nocellara "nissena" 45%
– Nocellara Etnea 40%
– Moresca 15%
Harvesting time
The fruits are harvested during half the ripening phase, in the period that goes from October the 15th to November the 15th.
Grinding
cold extraction of the oil with a non-stop method, made by mechanical means in the first 12 hours that follows the harvesting.
Maintenance
The oil is kept in steel silos at a steady temperature.
Oil analysis Certification:values result adequate to the CEE Regulation N.2568/91related to the characteristics of extra virgin olive oils.
100% ITALIAN PRODUCT
Size and packaging
Available size:Bottles of 8, 45-16,9- 25,34 fl.oz. – Can of 169 fl.oz. / On demand: Cans of 33, 8-101, 4-1014 fl.oz.
MADE IN SICILY
Braille readable rear label
SILBERNER PREIS: awarded by DLG-Prämierte Spitzenqualität 2009 in Frankfurt.