Jam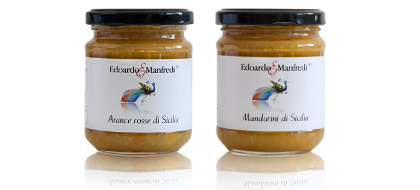 To describe the aromas, the harmony and the nature of our Sicily we have made ​​these jams from taste fresh and intense.
Worked according to the country tradition to make potting while the product is still hot, our products retain the authentic flavor and aroma of the fruit
Sicilian Red Oranges Marmalade.
He savored the rich taste of citrus can be spread on a slice of bread crunchy or used to make desserts.
Sicilian Mandarin Jam .
It is great for breakfast or combined with different types of cheese and pasta soft to hard dough.
8.47 oz.- size
Everything is strictly prepared in Sicily with Sicilian products (100%).